Important Note:

Please click here to go to
AICD's New Website!


www.academyoficecarving.com


The website page you are now viewing is being phased out.

The information on this page is not up to date.

Thank you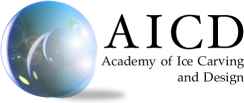 Cross the creative threshold with the most comprehensive ice carving instruction available!


The Academy of Ice Carving and Design offers chef trainers, career oriented ice carvers, and culinary students the opportunity to achieve profitable, gallery-quality skills in the art of ice sculpture.

Highly refined ice carving programs have been designed to help carvers of any level develop artistic, multi-dimensional drawing and sculpture skills; computer enhanced custom design; closed-cell engraving; multiple block fusing; high-tech special effects; safe carving and transport methods; effective sales methods; media/public relations...and much more!

Designed to be the most comprehensive professional ice sculpture training program and ice carving school in the world, AICD's Master, Professional, and Associate Ice Carver Programs offer a broad range of ice carving skills and technologies needed by professional chefs, instructors, ice carvers, and culinary students who want to excel in the hospitality/culinary industry.

Special Note: AICD provides one-to-one personalized instruction that is tailored for each student's experience and future objectives. Private instruction ensures that student carvers of any level receive far more actual training and individual guidance than is possible within group ice carving classes. It also provides a much safer and more productive learning environment for developing the advanced art skills needed for highly realistic and creative multi-block construction.

Photos of our students' first custom ice sculpture projects (which were completed during actual instruction) provide a thrilling glimpse of just how successful our ice sculpture training methods are.

Because of AICD's success in integrating the combined experience of world class ice carvers, award winning art educators, and top executive chefs, our students are capable of developing advanced ice carving and design skills that will give any hotel, country club, caterer, or culinary school the competitive edge that is so important in today's market.

AICD is located in Fresno, California.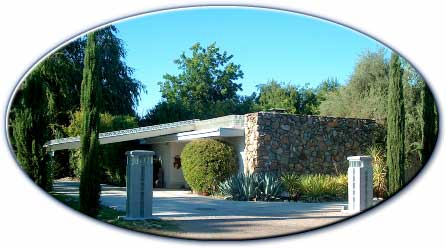 Whether you are a beginning or experienced ice carver, the sooner you reserve one of AICD's remarkable opportunities for private instruction, the sooner you will be on your way to accomplish the dazzling and profitable ice sculpting feats of a very priviledged few.


Three programs of private instruction
can be reserved throughout the year.



In order to offer the most comprehensive instructional program available for the hospitality industry, AICD combines the experience of widely recognized and proven instructional techniques with the expertise of the world's best carvers.

AICD's programs have also been developed to fulfill the professional growth requirements of culinary schools by providing specialized curriculum guidance and training for culinary instructors who teach the art of ice carving. To meet the safety-related needs of professional ice sculpture companies, ice carving schools, hotels, country clubs, and caterers, a high priority is given to the development of safe carving, delivery, and set-up practices.


The founder of AICD, Paul Germain, has 30 years of experience in both the ice carving and hospitality industry. In addition, he has 20 years of teaching expertise as an award-winning, professional art educator - which includes being honored by members of the United States Congress for his student's achievements.

Paul began training executive chefs in the art of ice sculpting over 17 years ago. Since then, his highly developed ice carving school, ice sculpture classes, ice carving lessons, and dynamic hands-on training methods continue to provide a modern standard for professional ice sculpture instruction. In addition to his own experience, ingenious ice carving techniques from around the world have been combined to create a comprehensive and prestigious ice sculpture instruction program.

Overview of AICD course topics

Ice carving classes and topics are adapted
to your experience and future objectives!


• A brief history of ice carving

• The medium of ice

• Appropriate use of ice carving books as a resource

• Sharpening, bits, and modern tool innovations

• Safety issues related to lowering, lifting, splitting, carving, delivery, and set-up

• Enlarging techniques

• Beginning to advanced design principles in all ice sculpture classes

• Designing awesome multi-block ice sculptures

• Secrets of fast and easy drawing

• Secrets of fast and easy templates - both custom and from ice carving books

• Beginning ice sculpture classes

• Intermediate ice sculpture classes

• Advanced ice sculpture classes

• Secrets of stacking and fusing for unique effects
and dire circumstances

• Maximizing the block for creativity

• Secrets of special effect coloring

• Secrets of inlays

• Secrets of closed-celled, snow-filled corporate logos

• Trouble-free ice beverage slides

• Taking your ice sculptures to the limit of lightness

• Considerations for adjusting your final design
for time, temperature, and atmosphere

• Custom display equipment and techniques

• Secrets of ice sculpture special effects such as mid-air suspension, rotation, pyro-technics, lasers, hi-tech DMX colored lighting, fog, and evaporative snow flurries.

• Ice sculpture instruction includes photography techniques

• Secrets of the critical art of transporting ice carvings

• Studio design and considerations

• Ice carving competitions

• Starting and building a business

• How to get paid what you're worth

• Principles of effective advertising

• Secrets of effective media relations

• Principles of powerful and effective ice sculpting instruction

• Curriculum design for schools interested in offering advanced ice sculpture instruction

...the list of topics and techniques goes on!

Reserve your private training opportunity now.


Our custom ice carving lessons and studio have been designed
for comfort, safety, creativity, and ease-of-use for producing
gallery quality ice sculptures for the hospitality industry.



Carvers have the opportunity to use a variety of tools, ice carving books, supplies, and equipment in our ice carving instruction programs, including:

• Ice carving classes include a variety of specially adapted power and hand tools

• 300 lb. crystal-clear Clinebell ice blocks

• Innovative specialty bits

• Modified chainsaw blades ranging from 12" to 28" long

• Alaskan mill

• Ice carving lessons include torches, irons, aluminum sheets, nail boards

• A full set of the best Misono chisels and saws

• A variety of custom ice sculpture display bases
including beverage bar and rotational displays.

• Advanced design materials

• Computer graphics programs

• High-tech special effects and lighting technologies

• Professional layout and enlarging equipment

• Art and design instructional media

• A library featuring all of the professional ice carving books (20 different titles) ever published

...and much more!

One year membership in the National Ice Carving Association (NICA) - sponsored and paid by AICD for carvers with a written recommendation from a NICA representative)

10% Scholarships - for AICD students recommended by the American Culinary Federation - ACF, the Professional Chef's Association - PCA, or other professional culinary associations

10% Scholarships - for AICD students recommended by representatives of an accredited culinary institute

Discounts for paid enrollment in two or more ice carving classes or levels

Note: individual discounts and scholarships cannot be used in conjunction with other discounts or scholarships.

Continuing support for AICD Alumni including design consultation, display assistance, the use of 20 different professional ice carving books, and many other resources


AICD Affiliations
Professional Resources for Ice Carvers




Academy of Ice Carving and Design
AICD


www.academyoficecarving.com

Go to Paul Germain's Ice Sculpture World Home Page